Changing your Username/URL
Contacting a fellow artist
Redbubble User Policies

Changing your Username/URL
When you first sign up to Redbubble one of the very first things we ask you to do is choose a Username. This is how you will be known on the site and should be unique and individual to who you are as an artist.
A great tip, if you have a name, business or alter ego that you are known by on other sites, it is a good idea to keep it consistent across all online places like Redbubble.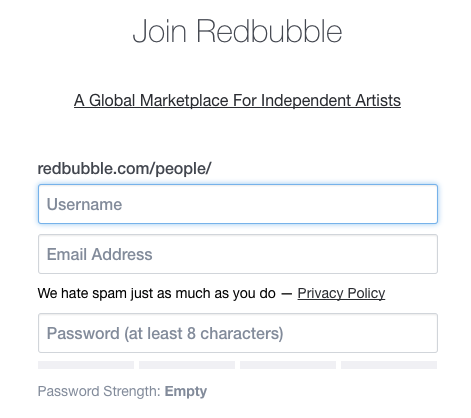 An artist's Username becomes part of their permanent URL so it is important to make sure that you are 100% happy before you sign up.

You can choose to have either your Username or Real Name as what is seen on your Redbubble profile, this will be your Display Name. To change this, simply visit your Account Settings page and choose one or the other.

Here is an example of how it would appear on your profile page:


If you do need change your username, you can contact our Artist Experience. Please note that your preferred name may already be in use/unavailable so including a few variations on the name is a good idea. Names must be between 4-15 characters. 
Contacting a fellow artist
Bubblemail is our internal Redbubble messaging service - it allows you to send private messages to other folks for example a fellow artist. It can be a great way to get advice, speak with others who share in your interests or send a friendly 'love your work' message.
All Redbubble accounts come with Bubblemail enabled and ready to use. You can elect to turn the service off, however sending a Bubblemail at any time will switch it back on again.
To be able to send and receive these messages you need to be sure that you have the feature turned on in your account settings. Alternatively you can access this by clicking on the link in the drop down box under your Username at the top of the page as seen below.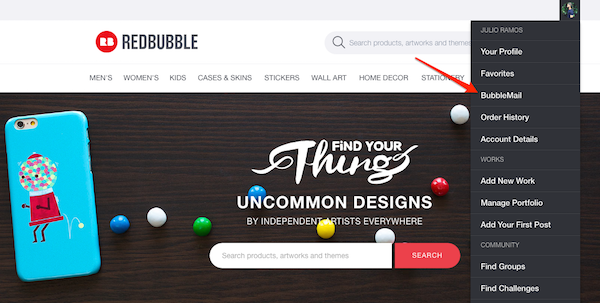 To contact a fellow artist directly using the Bubblemail service simply visit their profile page. If the artist has their Bubblemail service turned on you should see a little text bubble icon appear underneath their display name. Click this icon and you can begin to type you message.

This is how the message screen should look on your screen!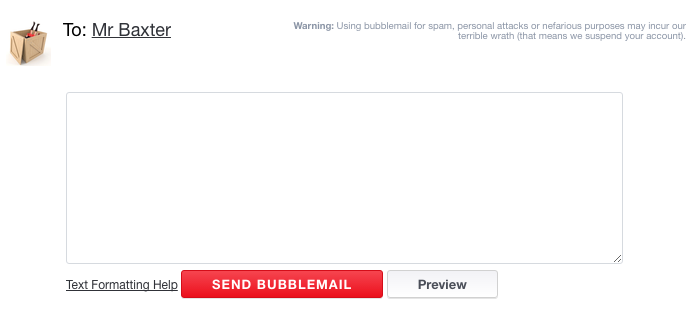 It is important to remember that if you have Bubblemail enabled this means any visitors or fans of your work can also send you a message. You may find it quite common for people to ask for special commissions or help in finding something they want for a particular product. If you ever feel like it is something you are unable to answer please do send them through to the awesome Help Center so they can chat with us directly. 
Redbubble User Policies
Mature Content
Mature Content refers to works containing content that may be considered not suitable for viewing by some audiences, such as nudity, blood, guns, alcohol, drugs, violence, adult language and other similar themes.
Artists should indicate that their work is Mature Content as a part of the upload process, however this can also be done at any time using the Edit Work function.

Marking your work as Mature Content ensures that it will only be seen by viewers who choose to include this content while browsing Redbubble. Failure to comply with this guideline may result in account restriction or closure. Pornography and other gratuitous content is not allowed on Redbubble. Please see our full Community Guidelines(link) for more information.
Members Under 16
Redbubble requires that all members be at least 16 years of age. This means you can not create an account or have an account created or managed on your behalf until you have turned 16.
Parents and Guardians
If you have creative children or teenagers who are 15 years or younger, you are welcome to upload their work into your own Redbubble account. Please do not create a separate account for your child before their 16th birthday. You can use the artwork description or title to identify your child as the creator. After your child's 16th birthday they can create and manage their own account on Redbubble, including offering work for sale.
Reporting Underage Accounts
If you have seen an account in the name of someone 15 years or younger, please let us know at support@redbubble.com.
User Agreement
Our services are available only to, and may only be used by, individuals who can form legally binding contracts under applicable law. Our services are not available to persons under 16 years of age. You can read more over here.
Artists and Charities
Redbubble is immensely proud of the way its members step up when tragedy strikes anywhere in the world.
How can I donate my earnings to charity or a disaster relief fund?
A number of artists generously donate their Redbubble earnings to a charity or not for profit organisation. While we are not able to arrange a donation or special invoicing on your behalf, you are able to make these arrangements yourself.
When communicating with customers about your fund raising efforts, you might consider using a statement like "All proceeds from the sale of this artwork will be donated to the International Red Cross" in your descriptions.
Some charities and not for profit organisations may ask that your register your fund raising projects with them ahead of time.
How do I know if pledges to donate are genuine?
We take the view that most people are honest and want to do that right thing. Redbubble is not able to verify if a pledge is genuine or confirm if a donation was made. You might like to contact the charity to see if they have a relationship with the artist, or you may prefer to donate to the cause or charity directly.
Prices and Invoicing
At the moment we aren't able to make changes to our standard prices or invoices.
To avoid confusion on what portion of the retail price will be donated, you might consider using the description field to clarify any details. For example, If your mark up is set to 20% you might like to use a statement like "20% of the sale price will be donated to the International Red Cross" or "All proceeds from the sale of this artwork will be donated to the International Red Cross" in your descriptions.
How can I find works on Redbubble which may help a charity or cause?
Artists may communicate their pledges in different ways. To start browsing, you might like to visit one of the charity related groups, or search for the particular charity or cause name. 
Deceased accounts
It is always saddening to hear that a fellow bubbler has passed away.
When an artist creates an account on Redbubble, they choose a password which we ask them to keep private. We do not have knowledge of their password and are unable to post a notice from or otherwise edit their account.
Many people build strong friendships within the Redbubble community. Some families like to create an account and post a message on Redbubble about the circumstances, to let these friends know what has happened. Friends within the community might like to dedicate a new artwork or piece of poetry, or write a reflection on their friendship and experiences together.
If you would like an account closed, please forward a brief letter with your request, as well as a copy of the death certificate to either address below, and we will be happy to remove the account from Redbubble.
Redbubble
Level 3
271 Collins Street
Melbourne, Victoria 3000
Australia
Redbubble
111 Sutter St.
San Francisco, California 94104
U.S.A.