Dimensions

File Format

Bleeding and Cropping

Other important notes
Dimensions

When it comes to uploading your images to Redbubble we prefer big, high-resolution original files which make fantastic prints. And when we say big we're really referring to the number of pixels in a file.
The file size (in MB) is actually not the best indicator of whether a file is suitable for printing on Redbubble. In the example below, the image has is 3.04 MB (quite small) and a resolution of 3779x1974 (reasonably large). Kooky, right? A file that may look quite small is actually totally suitable for printing at large sizes, all because of those pixels.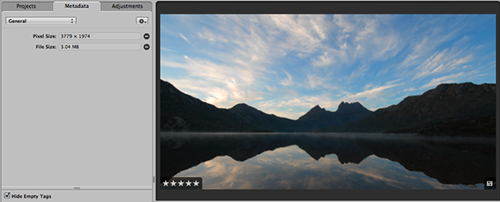 Below are the resolution thresholds for every one of our products. Take note that larger sized designs will be scaled down to fit the smaller dimensions, whereas smaller designs will not be scaled up. As this handy video explains, our uploader will stop a design from being added to certain products if it doesn't meet their minimum requirements. If you'd like to use a single image file for every product, we'd recommend starting with 7632x6480 pixels (suitable for our king size duvet covers). That way it'll be big enough to fit every product we offer!
Greeting Cards:
1300x900 pixels (1 megapixel) more info on cropping, character limits, borders and aspect ratios for cards here
Framed Prints and Stretched Canvas:
2400×1600 pixels (4 megapixels) for the small print

3240×2160 pixels (7 megapixels) for the medium print

3840×2560 pixels (10 megapixels) for the large print
Metal Prints:
Extra Small - 2400x2400 pixels

Small - 3200x3200 pixels

Medium - 3600x3600 pixels

Large - 3840x3840 pixels

Extra Large - 4800x4800 pixels
Posters:
2500×3500 pixels for the smallest print

3500×5000 pixels for the medium print

5000×7100 pixels for the large print
Calendar images:
2182x1906 pixels for the months

2371x2875 pixels for the cover 
Art Prints:
3840x3840 pixels will cover all sizes up to extra large. 1" - 2" minimum borders will be added around images and will vary depending on the appropriate aspect ratio to fit each paper size. Images are centered and 'padded' for non-standard sized images.
Apparel:
2400×3200 pixels will cover the printable area, although you can resize larger images to fit when uploading. The file must be a PNG for transparencies to be saved. 
Long T-Shirts:
Premium T-Shirts:
Mens Graphic T-shirts:
Womens Chiffon Tops:
Womens Contrast Tanks:
Womens Graphic Dress:
Womens A-Line Dress:
 Stickers:
600x800 pixels for small

1100x1100 pixels for medium

1700x1700 pixels for large

2800x2800 pixels for x-large

The file must be a PNG for transparencies to be saved. We recommend uploading a file with the maximum pixel requirements (2800x2800 pixels) to ensure your design is available on all 4 sticker sizes 
Phone Cases & Skins:
1187x1852 pixels will cover the printable area, however you can resize larger images to fit 
iPhone Wallets:
Laptop Skins & Studio Pouches:
4600x3000 pixels will cover the printable area, however you can resize larger images to fit

Please note slight cropping of the image on the smaller pouches will occur
Laptop Sleeves:
iPad Cases & Skins:
2696x3305 pixels will cover the printable area
Throw Pillows:
2188x2188 pixels for the 16"x16" pillow

2438x2438 pixels for the 18x18" pillow

2788x2788 pixels for the 20"x20" pillow

3125x3125 pixels for the 24"x24" pillow

3375x3375 pixels for the 26"x26" pillow

4625x4625 pixels for the 36"x36" pillow
Tote Bags:
2175x2175 pixels for the small tote bag

2625x2625 pixels for the medium tote bag

2950x2950 pixels for the large tote bag
Drawstring Bags:
2475x2775 pixels for drawstring bags
Duvet Covers:
7632x6480 pixels for duvets (including bleeding)
Mugs:
2700x1624 pixels for tall mug

2700 x 1120 pixels for standard mug

2376x2024 pixels for travel mug
Leggings: 
4350x4032 pixels for leggings. 
 Scarves: 
5748x5748 pixels for scarves. 
 Mini Skirts: 
2152x2502 pixels for mini skirts. 
Spiral Notebooks:
1756x2481 pixels for spiral notebooks.
Hardcover Journals:
3502x2385 pixels for hardcover journals.
Wall Tapestries:
Clocks:
Acrylic Blocks:
4 x 4 & 6 x 6: 1860 × 1860 pixels 
Gallery Boards:
The ratio for your work is decided by our systems when you upload an image. It then analyzes the image and applies the closest ratio. If you would like to change the ratio for your image you will need to upload an image at the recommended ratios.
The best way to do this is to use the Photoshop templates to export image at the perfect size. Alternatively resize your images as per the following preferred aspect ratios & dimensions:
1:1 (square) = 3060 x 3060 pixels

1:25 = 3360 x 4260 pixels (this is for portrait orientation. Please invert the dimensions for landscape uploads)

1:4 = 1560 x 2160 pixels (this is for portrait orientation. Please invert the dimensions for landscape uploads)

1:5 = 1260 x 1860 pixels (this is for portrait orientation. Please invert the dimensions for landscape uploads)

 
This is what your screen should look like in Photoshop when you are setting your pixel requirements: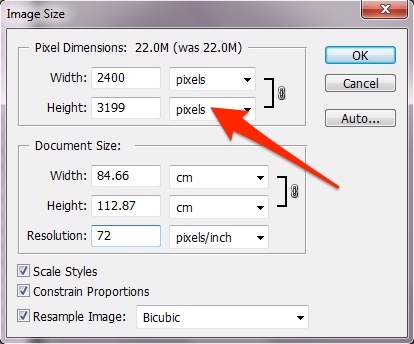 Format
When uploading your files to Redbubble, we can only accept JPEG or PNG.
TIFF and PDF files won't work correctly and what's more it will make kittens cry, so please don't do that.
Color
Our garment printers only print in the CMYK format so we recommend designing in this colour spectrum as it will give you a better idea of how the final product will look. You will still need to convert to sRGB colour profile to get your works looking as glorious as possible on the site.
Bleeding and cropping
As with all professional printing practices, the actual printed product will often vary slightly from the online preview. We'd advise you to steer away from placing text or borders on the outer edges of the printable areas, as there will always be a small margin for bleed on all printed products. 
Other Important notes
Please do not manually increase the pixel dimensions of your image. We use the number of pixels in an image to determine which sizes are appropriate – if you change the pixel dimensions you will trick our quality control software – but the products will come out looking blocky and horribly pixelated. And not everyone loves that Minecraft look.

If your image size or format is not right, this might restrict you from saving your work to some products. We automatically determine which products your file can be used to create, so that we only ship creations that both you and we can be proud of.

Images above 300 MB, or 13500x13500 pixels, cannot be accepted on the site due to the unreasonable load they place on our servers. Keep 'em trim guys. 

Images can pass the minimum threshold for a product without being the same aspect ratio, which can lead to white space or parts of your image being cut off - it's a good habit to check the previews for each product to ensure that everything fits and make changes (add background colour, use tile feature etc) if needed!