Social media is an increasingly vital part of marketing yourself online these days. It's an effective way to both keep in touch with your existing fanbase, as well as reach new fans with your work.
With that in mind, we have a couple of handy ways you can spread the word about your work on RB using social media.
Social Media and linking to other websites
We suggest actively marketing your own work both onsite and offsite, some people have success using various social network sites such as Facebook, Twitter, Tumblr and Instagram. If you have found some inspiring artists in our community why not check and see what they have done with external marketing - they're a great resource to tap into and learn from!
Redbubble makes it easy for people to share your work with their friends via the share button on each design page. This can drive traffic to your designs via Facebook, Pinterest, Twitter and Google Plus.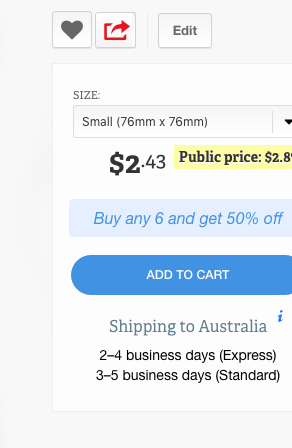 To connect your Redbubble account to Facebook, simply navigate to the Connect with Facebook page via Account Details, and follow the easy to use steps. You can also add links to your profile page for various other websites - Flickr, Behance, Instagram, Dribbble etc. - by entering these URLs in your Link to Other Sites page.

Posting to Facebook
In order to share your work, or promote a discount, on Facebook all you have to do is: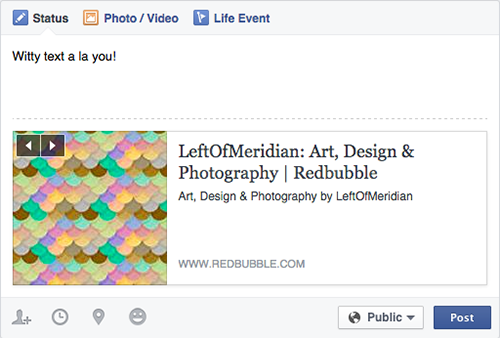 Copy the address of your Redbubble portfolio - http://www.redbubble.com/people/**USERNAME**/portfolio

Paste it as a status update to Facebook

Replace that boring old Internet address with a sharply written, charmingly charismatic, and/or humble message that let your fans, friends, and family know that they should grab a design or two from your RB portfolio. If a discount is being offered, here's the place to let people know it.

You'll notice that an image featuring one of your many wonderful works has populated the preview. Click the handy arrows to find the work design that best catches the eye of a potential customer.

Click Post and wait for the fortune and fame to come rolling in.
What is Pinterest?
Pinterest is a pinboard-style social photo sharing website that allows users to create and manage theme-based image collections. Actively sharing and promoting your work via social websites such as Pinterest can improve your sales.
Users can add works that have the Pin It button to one of their own boards on Pinterest. 
Can I opt out?
You can opt out of having your works pinned to Pinterest by going into your account settings. 
You can access this by hovering over your avatar, located on the top right of the page, and selecting Account Details.
Once on the Account Details page, scroll to the heading Image Settings, and select the box titled Hide 'Pin It' button and prevent pinning on my works. Click the Save Changes button at the bottom of the page and the Pin It button will no longer be available for any of your works.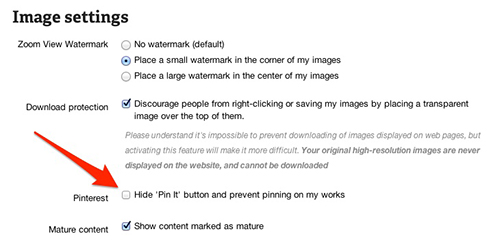 You've set up your social media accounts, now what?
Now that you've set up your Social media accounts and began sharing, you'll want to consider what comes next. How can you best use these portals to the virtual world to help your business succeed? Most freelance designers recommend creating a Social Media strategy early on, so you have a sense of direction and a consistent presence. Our talented blog team have put together a great post, which gives you steps on setting up yourself and your Social Media.

There are loads of awesome ways you can use social media to connect with your audience, grow your fan base and get to know fellow Redbubble artists. Why not check out the post below which details how to create your very own promotional image for use on your social media accounts.

Final piece of Social Media advice...
With so many ways to send messages and make contact these days, it's important to not become complacent about how your Social Media presence represents you, your audience and your art. As part of your Social Media Strategy, try to be mindful of being genuine, sincere and respectful when speaking to your fans. Again, our blog team has written up some handy tips at the article below:

Find us on Facebook, Twitter, Pinterest and Tumblr too