Signing up to Redbubble might be the best decision you'll ever make. Aside from uploading and selling your own designs, signing up will ensure that you'll be able to receive our excellent and entertaining email updates, access our fancy blog full of creative tips, tricks & mish-mash and join a huge community of talented artists and designers. There is no formal vetting process, so you can begin uploading and selling your original, quality art in no time!
There's loads to explore, but don't take our word for it - if you're over 16, you can pick yourself a username and sign up for free!
You'll also want to take a look at our User Agreement so you know everything there is to know about the adventure ahead of you. Once you've done that, head on over to our signup page to get started.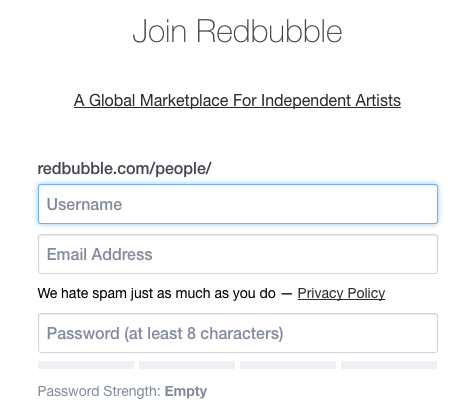 You can use your Facebook login to create a Redbubble account with the same sign in information - please keep in mind the confirmation email will be sent to the same email you use for Facebook. 
Next step - is everything confirmed?
Before you can make your artwork available for sale, you'll need to make sure you've confirmed your email address and provided us with some information about where you live. To confirm your e-mail address, go to your account details and click on confirm your e-mail address. A confirmation e-mail will be sent out shortly!
Note that it only takes a minute or two to send the e-mail to you. If you are having trouble receiving it, please try the following:
Make sure that your e-mail address has been entered correctly. Be sure to check spelling, spaces and upper or lower cases.

Then send the confirmation again.

Check the junk mail folder in your e-mail.

Try entering another e-mail address, save your changes, then send the confirmation again.
Email us at support@redbubble.com with your Redbubble username and the e-mail address you are trying to confirm.
Personalize your cover photo
Next step is to select a new cover photo for your artist profile! This is a great opportunity to make a lasting first impression, and further tell your story while ensuring your profile reflects your individual creative style. Your cover image could feature an individual artwork, a collage featuring a variety of works, or even a snazzy shot of your studio.
To add a cover image, visit your profile to upload a 2400 px wide by 600 px high image, to remove it click the 'Edit' link. And don't forget your mobile fans when designing your cover photo. Check out your profile in your mobile device to see how it looks. Here is an example of the cover photo in action with resident artist Miss Katz.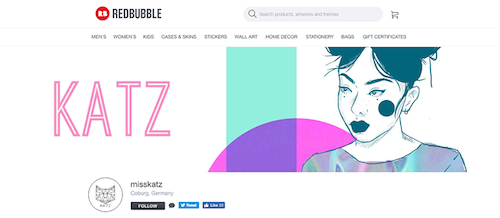 To complete your account set up, make sure you choose a payment option that works for you and is available in your country. You'll also need to select from our tax options and then save all changes.