Now that you've created your Redbubble profile, it's time to move onto the most exciting and creative part: adding work! Our uploader tool is designed to make it painless to add your designs to as many products as possible and put creative control in your hands.
To begin filling up your shop with your designs, select the drop down menu in the top right corner of the page (underneath your avatar). Then select Add New Work.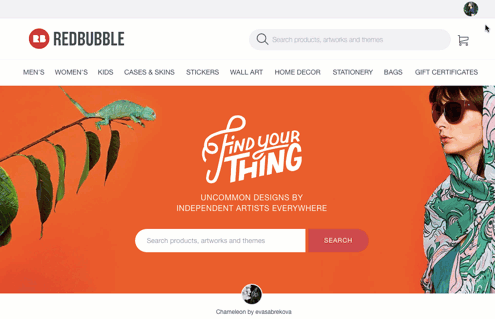 From here, you'll be taken directly to the upload page where you'll find our uploader tool. You can use the uploader to add your artwork on a number of different products and edit how your work will appear for each one.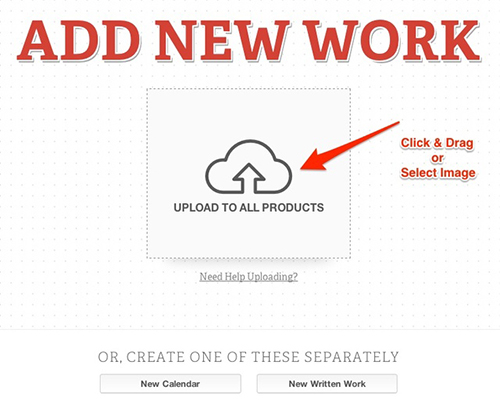 To upload a file, click on the upload to all products icon or just drag and drop the file from your computer to the highlighted area. We accept your designs in either JPEG or PNG format - just make sure you read over our handy guide to the different sizes and formats required for your artwork before you start uploading.
While your image is uploading, you have time to fill in all the details about your work including relevant tags, available products for sale and the artist markup. You also have the ability to pick the title for your work and add in other important details: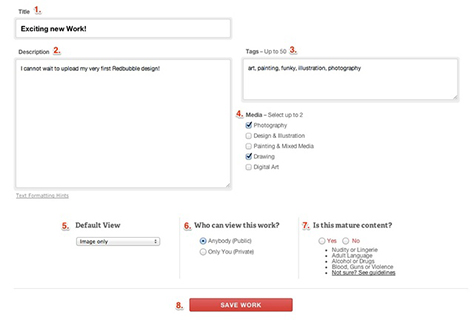 The title of your design

A brief description of the design (what inspired you, or the materials used)

Tag words, to help categorise your work by style or anything else you can think of (used when searching Redbubble)

The medium used to create your work

The default product (the first thing visitors will see when they find your design)

Privacy settings

Mature content settings

Hit this once you've finished up!
Group Submissions
Adding work to a group? We got you covered! As long as you are a member of a group on Redbubble you should be able to add a work by selecting the checkboxes under Group Submissions at the base of the page.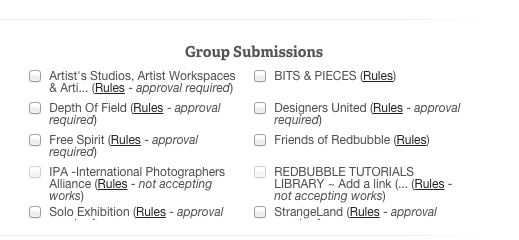 Editing your design
For each product, you're given the opportunity to do some basic editing before saving the work for final upload. Here is an example for tees, one of our most popular products!
When you're uploading a T-Shirt design, there are a few things that will help you determine exactly how your work will be positioned on the product. After uploading the file, a new window will open with all of these handy features: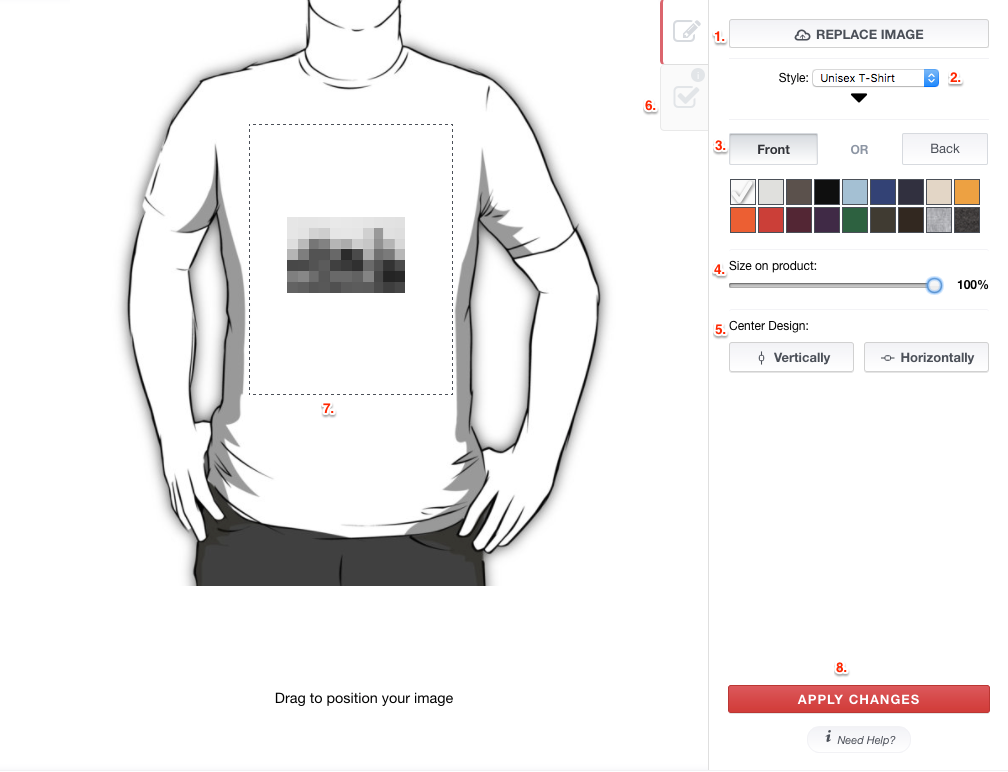 If you have a file specifically for tees, you can upload it here.

Use this drop down menu to select which style of tee you wish to appear for the preview.

Choose if you would prefer the design to default to the front or back of the garment, and pick a default color.

Reduce the size of your design by using this scale slider.

Play with the center design feature, either vertically or horizontally.

Change the mark up percentage and product availability here.

Re-position your design by clicking and dragging this preview.

Apply your changes, or ask for a little extra help if needed.
To make sure your design is applied in the 'printable area' of the tee, we have also included a dotted outline of the printing area. All you need to do is click and drag your image over the tee - if you get too close to the edge this outline will appear to let you know you've reached the edge of the print area.
Once you are completely happy with how your design looks on each product, click the Save Work button to make it available for sale! Woooo!

Now you've successfully uploaded a new work, you can view your portfolio, and manage your work or markup percentage. You can also arrange all your designs into themed Collections that allow for you to display your work mini galleries. If you'd like to see a step by step guide to adding works to Redbubble, check out this helpful video from one of our dedicated users! To learn more about getting the most out of your Redbubble profile, be sure to check out our Advanced Uploading articles.