Our collections are like miniature galleries that you can use to arrange and organise your work. They're quick and easy to set up, and help you display your work how you want! 
With Collections, you can:
Create sets to easily organise your work into genres, categories, styles, or products

Add works to multiple collections

Choose the order in which to display your visual and/or written works

Choose the order that collections appear on your profile and portfolio pages

Choose the default display within each collection (view as specific product, or sorted by recent/popular, and so on)

Highlight a specific collection on profile pages, and rotate often to "freshen up" your profile from time to time

Choose to show cropped or un-cropped thumbnails within each of your collections

Edit collections directly from within your portfolio, and choose ordering, cover image thumbnail and name

Add a description for each collection




There are two ways you can create and manage your collections - either from the Manage Portfolio page in your profile settings, or directly from your public Portfolio page.
Creating a Collection from your Manage Portfolio page
Click the check boxes to select the images you want in your new collection. A "collections" dropdown menu will appear. Then add a title and hit the "+" symbol to save it. From here, the new title should appear in the dropdown menu. Click the "Add" button to save!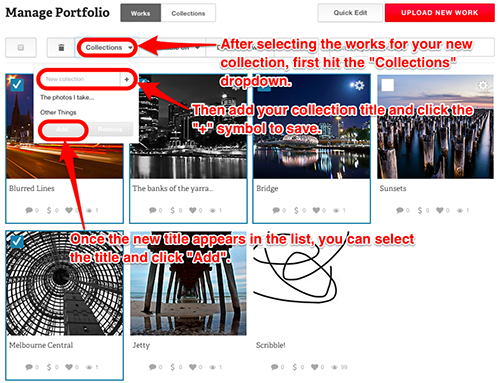 Creating a Collection from your Portfolio Page
On your portfolio page, click the link on the left hand navigation menu that says New Collection. Type in a name for your new collection and press the Save button. You will then see your new collection listed in the left-hand side navigation menu with any others you have created.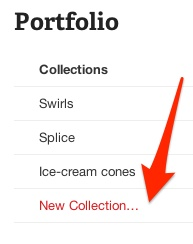 How many collections can I have?
The current limit to collections is 30 per profile, so if you reach your limit you may need to delete or combine another collection in order to create space for a brand new one. If you want to learn how to delete a collection, there are some handy instructions below.
There's a spinning wheel on the title of my new collection
Never fear! This just means that we're searching for your excellent designs to use as a cover image, but the collection is currently empty. Once you've assigned a design to the collection we'll have something to display.
Add works to a collection for your Manage Portfolio page
To add a work to an existing collection, select the work you wish to add, then click on the "Collections" dropdown menu. From here, select the title of the collection you wish to add the art work to and click the "Add" button.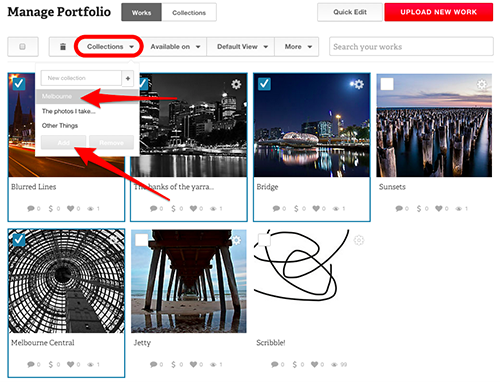 Add works to a collection from your Portfolio page
From anywhere on your portfolio page, you can click and drag any image, written work or product thumbnail onto the name of the Collection to which you would like it to be added. You need to drag and drop the image onto the list of collections on the left hand side of your screen. You can add up to 100 works to a collection.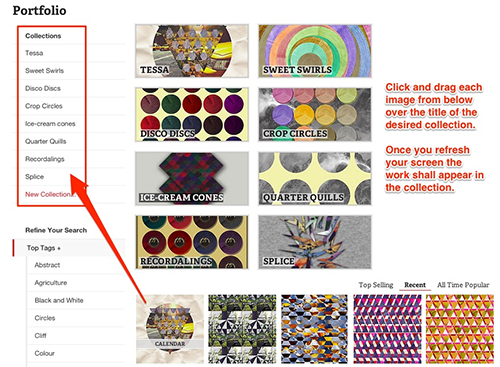 Editing/Managing a Collection from Manage Portfolio page
Head to your "Collections" button at the top of the screen which will display your existing collections. From here you can select a collection you want to modify. To do this click the cog wheel and then "Edit". You can also drag and drop collections to arrange the order that they appear in your portfolio.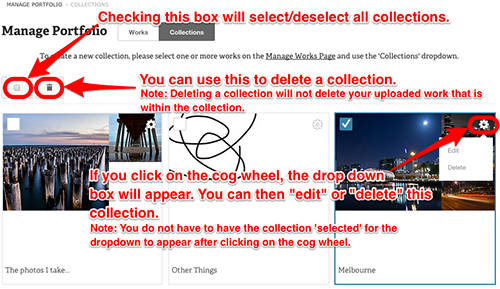 From the Manage Collection page, you can edit the title and the description, as well as change the display order and thumbnail style. Once you're done, just hit "Update Collection".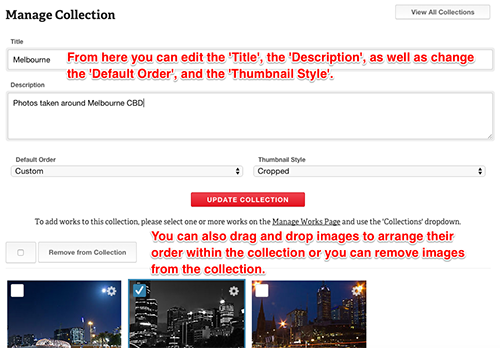 View, rename and add a description to a collection
To open and view the works within a collection, you can click the Collection name from the left-hand side navigation menu, or click the thumbnail from your profile page.
While viewing a collection, you can rename it by simply clicking on the title up the top left side of the page, editing, and clicking the save button. You'll also notice this is where you can add and update the description.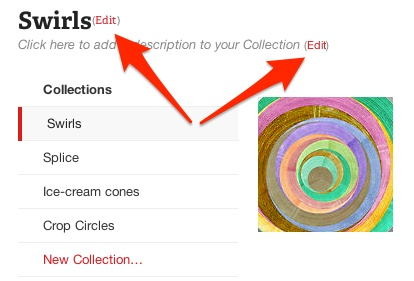 Deleting a Collection
While viewing a collection, you can click the red Edit button on the top right-hand side of the page, and click the Delete Collection link. Please note that this will only delete the collection - your works will remain in your portfolio.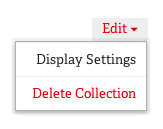 Set default views and change cover image
You can choose how your work is initially displayed when your collection is viewed.
Within a Collection, click the red Edit button on the top right, and then hit Display Settings. On the pop-up box, you can choose the sort order, the type of thumbnail, and the cover image that is displayed on your profile overview page. If you would like to set your own order, make sure you choose Custom, and you can manually drag and drop images into the order you prefer them to be displayed.
It is important to note that the selected thumbnail option will affect which works in a collection are displayed. For instance, if the selection thumbnail option is Posters, this will only display works that are available for sale as posters.
Change the order or remove your work from within your Collections
To arrange the works within your Collection, you can simply drag and drop them in your chosen order. Don't forget to click the Save button on the bottom red bar. If you would like to remove a work from a Collection, you can simply drag it onto the Remove drop zone.
Please note the big red bar down the bottom will only appear once you grab a work to start moving or removing.
Change the order of my Collections
When someone visits your profile Overview page, your Collections will be displayed on the right side of the page. You can change the order in which your Collections are displayed from your manage portfolio page by dragging and dropping the Collection thumbnails.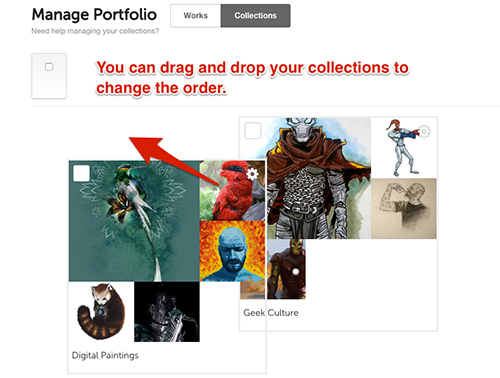 Or you can change the order within your portfolio page by dragging the Collection names up or down on the left-hand side navigation menu in your portfolio.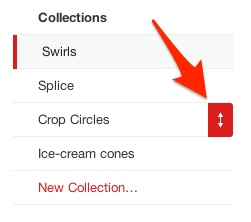 Highlight a Collection on your Profile
If there's a particular collection that you're especially proud of, you can showcase is from the front of your Profile using the "Highlight Collection" button. From your Profile page, simply mouse-over the beloved Collection and click on the wee upwards-arrow to pop it at the top of your page.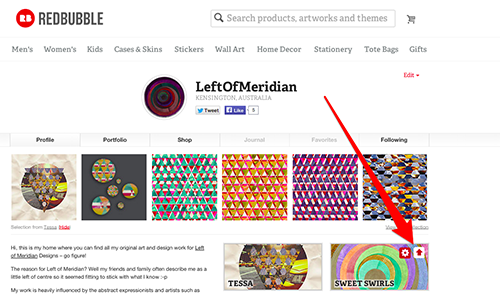 Now go to your portfolio now to try it all out!
Collections and Privacy Settings
Please note that for the time being, you're not able to make a private collection, or add private works to a public collection.