Once you have work uploaded to Redbubble, you'll no doubt want to organise and modify it over time. Thankfully we have loads of handy resources to help you make the most from your RB profile! To begin with, we have a handy video to introduce you to the functions of the Manage Portfolio page:
Navigating to your Manage Portfolio page

Once you've logged in, you can quickly manage your portfolio section by hovering over your your avatar at the top-right of every page to reveal a drop down menu with the Manage Portfolio link.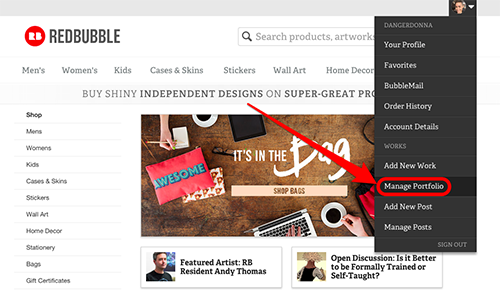 To select the works you'd like to edit, all you need to do is click anywhere on the images you wish to modify - a blue tick and border will let you know what you've selected.
If you'd like to edit everything in your portfolio, use the tick box in the top left corner to select or deselect all works on this page: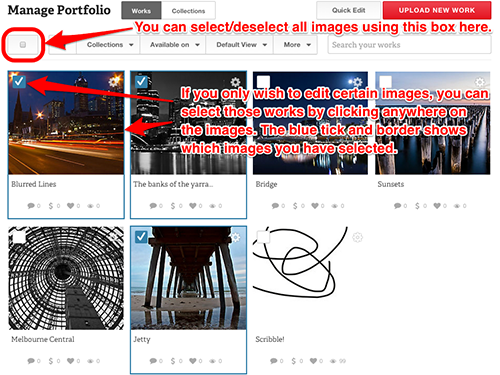 Collections are like mini galleries in which you can arrange your work. They're quick and easy to set up, and help you arrange and organise your work how you want! We have a specific article all about Managing your Collections if you'd like some more specific details/help. 
You can easily search through your entire portfolio by typing in either the title or tags words into the "Search your works" bar at the top of the page. This will show all commonly tagged works for simple management.
At the top of the page is the "Quick Edit" button. This is useful for bulk-editing titles and tags on your work. To edit the description of a work, you will need to do so individually through the Edit Work page.
Once you arrive at your manage portfolio page, a list of all the beautiful works that are currently uploaded to your account will be seen. Here you can see some helpful, simple stats such as views and sales per design - we also have Google Analytics integration that you can set up if you'd like more detailed stats.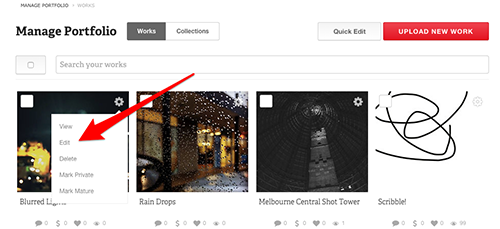 By clicking on the cog wheel, a drop down menu will appear with the 'Edit' option - it'll then open a page very similar to when you first uploaded the work. Once again. you will be given full control to make changes to your design such as placement and background color on each product. You can also click the Edit button from the design's work page at any time - this big red arrow points to where you find this in the image seen below.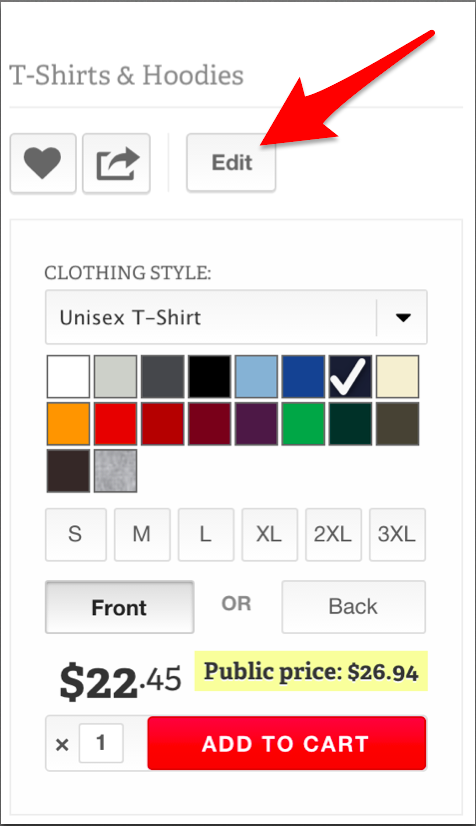 This link will take you back to the same product list page that we looked at earlier. Here you can make all the changes you like and make it official by clicking the Save button at the very bottom of your screen. If you need a refresher on how this works, feel free to visit our adding work guide here. 
What if you don't want to sell designs as a particular product, like Throw Pillows? We've got you covered!
For those who have pages and pages of designs and don't have the time to remove each, you can bulk enable and disable your designs for each product. For example, if you wish to remove your automatically applied designs from a new product this is the perfect tool. To find this new feature simply travel to your Manage Portfolio page, click on the select all box in the top left corner, then open the Available On drop down menu, which will list all products currently sold on Redbubble: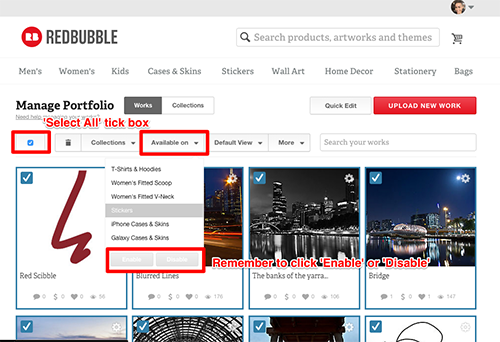 Then you can just enable or disable products for all of your designs. 
It's important to remember that when 'enabling' on to a product, if a design hasn't been on that product previously or the file size isn't quite right, you will be given a message letting you know this. We always like you to edit works individually for new products, so that you know they are just right!
Removing an item from being available
We realise there are times when you may not want your design to be available for purchase on a certain product. Not to worry - it's very easy to remove a product from sale.
To remove one product from a design simply travel to your product range tab so you can view the complete list of current available items. To remove a product from the list, all you need to do is carefully drag your cursor over the Hide button (see our red arrow again) that will appear next to your mark-up percentage. One click and that product will now be unavailable to your future buyers.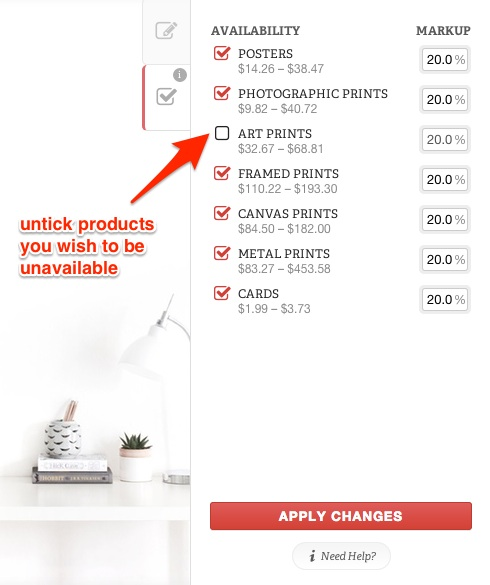 In the same menu, you can change your markup to suit your products, choosing to price individually or apply the same markup to all products for that work.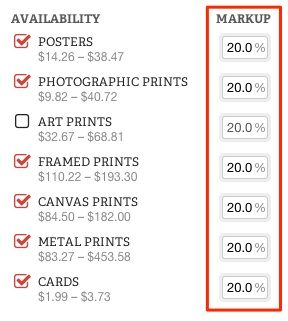 You can also change the markup prices of specific products across all existing designs - for example all T-shirts or stickers can be set at 25% if you wish. In your account details you will have an option to Edit Pricing which is a default mark-up tool. This will appear in your navigation list as seen below.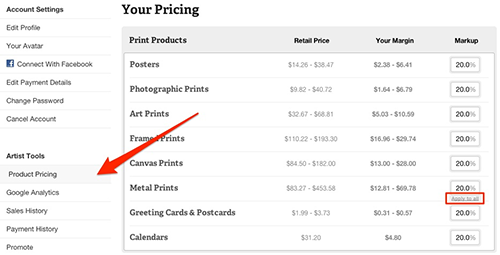 At this page you will be able to change the markup for all products in one design by clicking the Apply to All pop button which appears underneath the markup box. 
Alternatively, if you would like to change the mark up across all T-shirt designs, you can enter in the new % and tick the Apply these markups to all my existing work checkbox as seen below. It is important to remember to save your default markups.

To delete works, all you need to do is select the designs you wish to remove, then click the trashcan icon at the top of the page.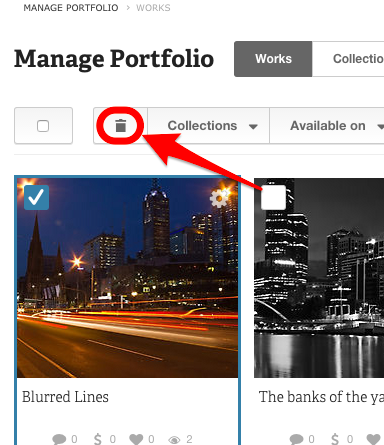 Once a work has been deleted it cannot be retrieved, so do make sure that you're sure that you'd like your work removed from the site - if you wish to re-add a work it will need to be added again from scratch.
The manage portfolio menu also allows you to mark your works as private (viewable only to yourself) or public (viewable to anyone). You can tell if your work is marked as 'private' by the little padlock that appears underneath the cog wheel. Clicking the cog wheel will allow you to change the privacy settings of individual works.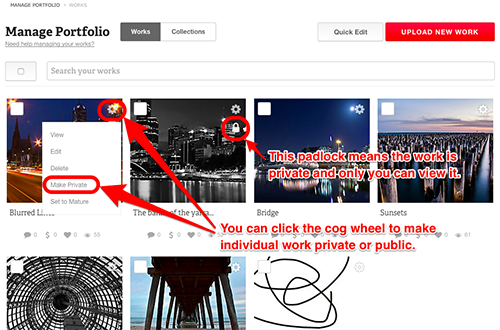 When a visitor first sees your image you can choose what product it will appear as by selecting a Default View. If you think your design, or multiple designs, will look particularly good as a hoodie or tee you can make this the very first product a potential customer sees.
You can change Default View by selecting your image/images and clicking on the 'Default View' drop down box from the menu at the top. From there, you can scroll down to select your preferred product or you can choose 'Image only' - it's up to you! Be sure to click the 'Set as default' button to save your changes.  
It's important to note that you do need to have the product enabled for the image/images before that product can be selected as a default.