Get to know your Analytics Dashboard. The information it holds can help you monitor your growth, set goals, and optimize your Artist shop.
This article covers:
Your Earnings Over Time
Exploring your earnings over time can help you analyze sales trends in order to optimize your marketing efforts and increase traffic to your work.
The default view of the chart is 30 days, but you can apply a 7 day or 12-month filter as well. For an even closer look, you can also drill into your payment history.
*Please note that it could take up to 48 hours for your data to display in your dashboard. This is due to time zone differences.
How do people find my shop?
Audience Traffic Sources show you where the people who view your work are coming from.
Redbubble

: Traffic we bring to you.

We support artists through Redbubble generated activities such as marketing emails, paid advertising, affiliates, the blog, and any searches conducted on the Redbubble website.

Direct:

Visitors who directly typed your URL into the browser's address bar, clicked on a bookmark, or clicked on a link in an email or message.

*Strong direct traffic means you have a successful marketing and branding initiative that leads fans to click on your links. Awesome!
Organic:

Visitors from any search engine such as Google, Bing, or Yahoo!. This means that the visitor clicked on a search result and not a sponsored ad.

*Tags, descriptions, and the title on your products help with organic visitors.
Social:

Visitors coming from social media platforms including Facebook, Twitter, Pinterest, Instagram, Tumblr, and YouTube.

*Strong social media traffic means you've likely added your Artist shop URL to your bio across your social media accounts and are regularly posting photos of your artwork. Alternatively, an influencer might have linked to your awesome designs.
Other:

Visitors coming from links that appear on different sites. This could include traffic from your website, news sites, or forums.
What is "asc=u" in the link I'm sharing and why is it important?
If you're logged into Redbubble, asc=u will automatically be applied to any shop, profile, or product listing URL you share. When you share links with asc=u you can see the impact of your sharing vs overall traffic in the My shares view of the dashboard.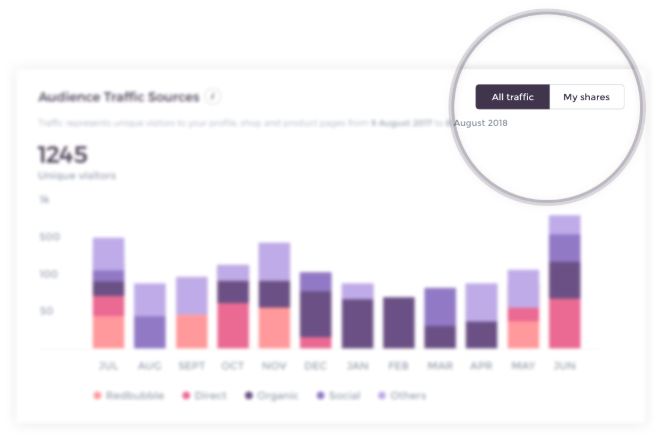 Your top selling artwork
Understanding what is resonating with your buyers — what they like and dislike — can help you create art that they'll love and share with the world.
For example, if an artwork performed particularly well last month, consider creating similar artworks or if an artwork sells well on Stickers, make sure you've enabled Stickers on all your works.
Drill into your sales history to get a more granular view of your sales over time.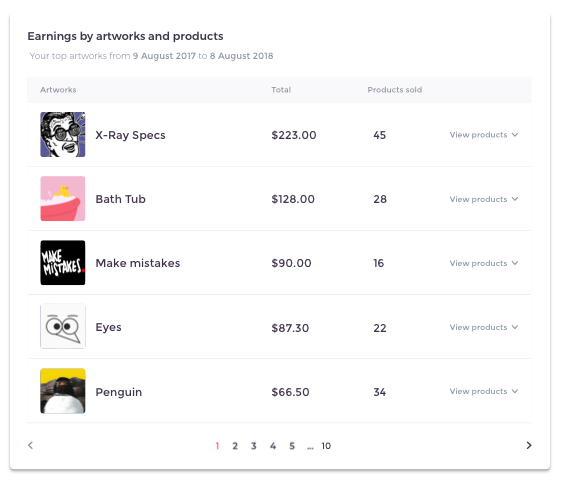 Your Popular Products
T-shirts, Leggings, Posters, Metallic Prints, Stickers, Pillows… which products sell best with my artwork?
Select 'View products' on top artwork to find the products that sell best on your selected artwork.
If a product type like Stickers performed particularly well on your art last month, consider enabling Stickers for all your works.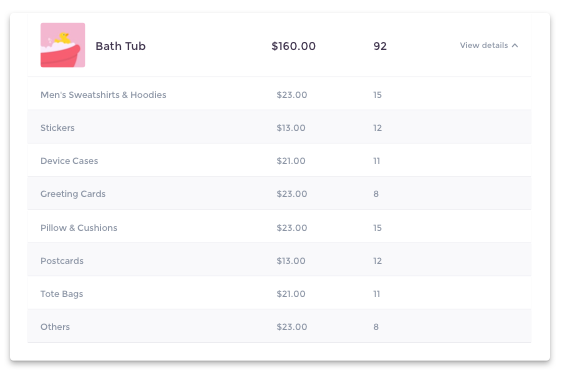 Note: For products no longer supported on the Redbubble marketplace, you will see a line item in the product breakdown indicating this is no longer a supported product. The product breakdown will display your top 10 selling product items only.
Frequently Asked Questions
How often is data refreshed on my analytics dashboard?
Your dashboard data will be refreshed daily at 2:00 am in the UTC time zone.
I've sold in the last year but I don't see my dashboard?
If you've made sales on Redbubble and don't see your analytics dashboard, please try the following in order:
Log out of Redbubble.com and then log back in

Reset your Redbubble password and log back in

If you're still experiencing issues, please contact our friendly

Artist Success team

for assistance.
Why can I see my private, suspended, or deleted works in my top-selling artwork?
If you've sold artwork that you've moved to private or deleted they may still appear in your top-selling artworks as you've previously generated earnings on these artworks. Private, moderated, or deleted works will be represented with a grey default image in your artwork list. Please note these works will only be visible to you in your analytics dashboard and will not be accessible on the Redbubble website.
Why can't I see all my artworks sold within the selected time period?
The artwork widget will highlight your top 50 and lowest 50 selling artworks as an indication of what's popular in contrast with works that might need more promotion or consideration.
I've noticed a discrepancy in my data, what should I do?
If you've noticed a discrepancy in your data, please contact your friendly Artist Success team.