Submitting Your Design
Tag your work with: FullFrontalwithSamanthaBee, SamanthaBee, SamBee
Accepted Formats: jpg, png; under 300 mb
Recommended Dimensions: 7632 x 6480 pixels
General Guidelines
Applies to all fan art submissions in the Partner Program

Be original.
While your work will include a brand's Intellectual Property (like a company's logo or a character from a TV show), it's important to add something original of your own - make it unique.
Do your research - make sure your design hasn't already been done.
Don't submit screenshots or imagery taken directly from the property.

Be mindful of explicit content.
Some brands might be ok with adult content, but others aren't. Check each brand's guidelines if you want to know more about what each partner thinks is ok.

Be creative.

Play with styles and mediums.

Get inspiration from the brand - watch, read, or play it again.
*Please Note: it may take 5+ weeks to review your work. Thank you for your patience!
Property Guidelines
Specific to Full Frontal with Samantha Bee
Last updated May 12, 2020
Dos
Do tune into Full Frontal with Samantha Bee on Wednesdays at 10:30PM to get inspired!

Do be creative and original with your fan art.

Do experiment with different art styles and techniques!

Do be sure to leave the logo as-is if you're incorporating it into your design. Altered logos will unfortunately not be approved.

Do use the full name of the show title, Full Frontal with Samantha Bee, if referencing the show title in your fan art. Submissions using only 'Full Frontal' may not be approved.

Do have fun!
Don'ts
Don't use any 3rd party content or ideas, including mash-ups of Full Frontal with Samantha Bee with other properties.

Don't submit unoriginal content such as: show logos used alone, existing merchandise designs, screenshots, plagiarized works, etc.

Don't submit works that are racist, hateful, violent, defamatory, or otherwise inappropriate. Works that are deemed inappropriate will not be approved and taken down.

Don't use Samantha Bee or any other person's likeness in your fan art designs.
About Full Frontal with Samantha Bee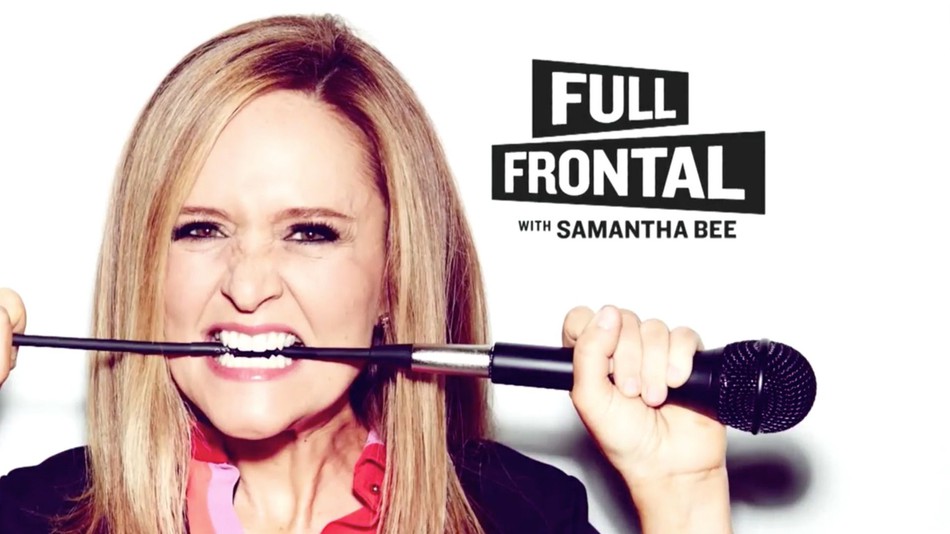 Full Frontal with Samantha Bee shines a spotlight on stories inside the beltway and beyond, from sexual harassment in the media to the "boyfriend loophole," and from global warming to child marriage in the United States. Full Frontal also travels around the world to cover international stories, with segments from Jordan, Germany, Russia, Scotland, Mexico and Iraq.
FULL FRONTAL WITH SAMANTHA BEE TM & © 2018 Turner Broadcasting System.