Submitting Your Design
Tag your work with: ImpracticalJokers, Impractical Jokers
Accepted Formats: jpg, png; under 300 mb
Recommended Dimensions: 7632 x 6480 pixels
Licensed Impractical Jokers designs will only be available for purchase in the following countries: Canada and United States.
General Guidelines
Applies to all fan art submissions in the Partner Program

Be original.
While your work will include a brand's Intellectual Property (like a company's logo or a character from a TV show), it's important to add something original of your own - make it unique.
Do your research - make sure your design hasn't already been done.
Don't submit screenshots or imagery taken directly from the property.

Be mindful of explicit content.
Some brands might be ok with adult content, but others aren't. Check each brand's guidelines if you want to know more about what each partner thinks is ok.

Be creative.

Play with styles and mediums.

Get inspiration from the brand - watch, read, or play it again.
*Please Note: it may take 4 or more weeks to review your work. Thank you for your patience!
Property Guidelines
Specific to Impractical Jokers
Dos
Do 

watch Impractical Jokers episodes to get inspired.

Do be original and create some awesome, witty, and comical fan art!

Do feel free to reference icons, sayings, and other elements from the show, including the guys, such as:


Benjamin the Cat

Joe the Genie

Bog Monster

Ferret Boy

Captain Fatbelly (Fat Belly)

Ja 'Crispy

Cranjis McBasketball

Larry

Scoopski potatoes

and more!

Do try out different styles for your fan art, but please refrain from creating caricatures of the guys.

Do be sure to use current looks of the guys.

Do make sure that all your spelling is correct before submitting your design!

Do make sure your fan art is appropriate for a 14+ age audience, and does not lean too youthful.

Do remember that this is about the guys making fun of each other and themselves vs. making fun of other people.

Do have fun!
Don'ts
Don't use any 3rd party content or ideas, including mash-ups of Impractical Jokers with other properties.

Don't include any references to the 'What Say You' podcast or the Impractical Jokers tours.

Don't submit unoriginal content such as:

show logos used alone

existing merchandise designs

photographs of the guys that are not yours

screenshots

plagiarized, copied, or stolen works

etc.

Don't submit works that are racist, offensive, hateful, violent, defamatory, or otherwise inappropriate. Works that are deemed inappropriate will not be approved and taken down.

Don't use the show logo in your fan art design.

Don't make references to female anatomy in your designs.

Don't use or show Q with long hair.

Don't call me mustache.
About Impractical Jokers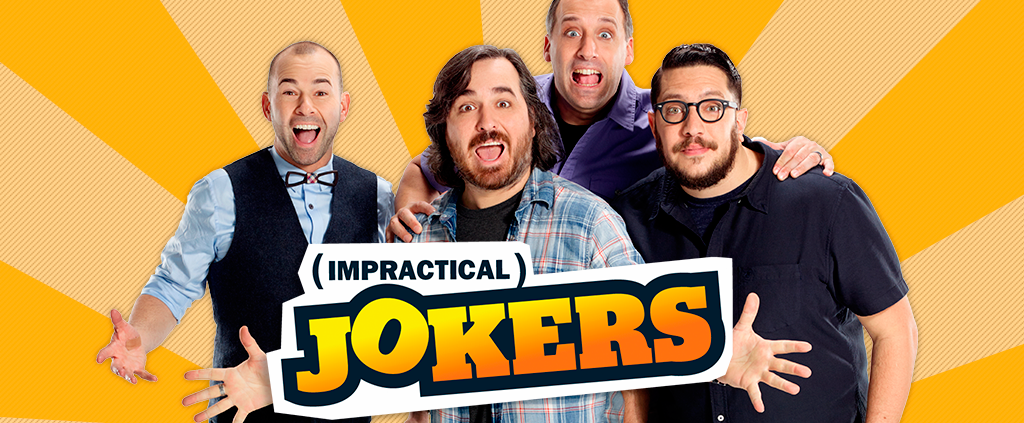 Four comedians and lifelong friends compete to embarrass each other out amongst the general public with a series of hilarious and outrageous dares. When Sal, Joe, Q, and Murr challenge each other to say or do something, they have to do it. And if they refuse, they lose. At the end of every episode, the biggest loser must endure a punishment of epic proportions. This season, the guys pose as hot dog vendors, gymnasts, waiters, clerks at a bridal shop and more. As for the punishments, from skydiving to the rodeo to the body piercing shop, they are bigger, badder, and funnier than ever before.
TM & © 2018 Turner Broadcasting System.