Step One. PayPal Account Verification.
Step Two. PayPal Account Verification by Redbubble
If you haven't received your payment yet or you don't know how to verify your PayPal account, read ahead and learn how to fix it!
Being an independent artist on the Redbubble marketplace, one thing you'll want to be completely sure about is that everything is set out for you to get paid.
First, you want to check whether you've met the payment threshold ($20, €20, or £20). If you haven't, you can look forward to your payment in the next eligible cycle once you've made enough sales.
If you've reached the threshold but no payments were issued, you'll most likely need to verify your PayPal account. Why? To make sure that all independent artists have a legitimate payment method. This is why a verification process is needed for payments to be processed.
This is a very easy process that -lucky for you- we've broken down into steps.

Step one. PayPal account verification.
Click here to find out if your PayPal account is verified. You'll just need to log in with your PayPal credentials to check your verification status. If your account is verified, you can go directly to step two.
If it's not verified, you can follow these instructions on how to verify it. If you're unable to verify your PayPal account, please reach out to PayPal's customer service for further assistance.
When you're done, come back and move on to the next step!

Step two. PayPal account verification by Redbubble.
Head over to your Edit Payment Details settings and scroll down to the section called Getting Paid. If you are a new artist on the Redbubble marketplace, select the currency you'd like to get paid in.
Once there, click on

. From here you will be redirected to the Connect to Paypal page.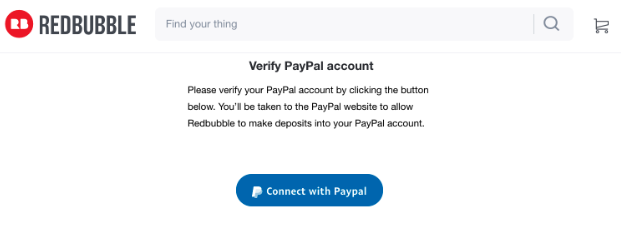 Click on Connect with PayPal and log in. If you successfully logged in with PayPal, you'll be sent back to your Account Settings on Redbubble.
And voilà!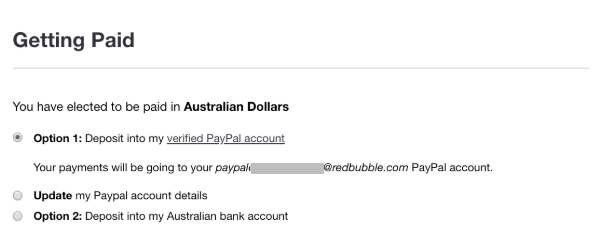 If you see the image above, it'll mean that you have verified your PayPal account and you will receive your payment in the next payment cycle!

If, however, what you see is the banner above, it means that you are still to verify your PayPal account with PayPal. Don't worry, just go to step one and verify your PayPal account first.