Based on the size of your file, the Uploader will automatically enable and disable the products your work is available on. The larger your image, the more likely our system will enable them on larger products. Of course, as the artist, the decision is ultimately up to you.

Remember: Resolution & file size matter! Smaller files with fewer pixels won't translate onto larger items. Check out the Dimensions & Format article for more info.
There are 2 ways to enable/disable certain products.

You can enable/disable the entire line of products.
You can see how many specific products are in a line by the fraction under the product title. Large Print Clothing, for example, has 3 products in the line. To enable/disable all of the products in that line, you can hit the 'Enabled/Disabled' button under the preview. You'll know the product line is enabled when the button is green.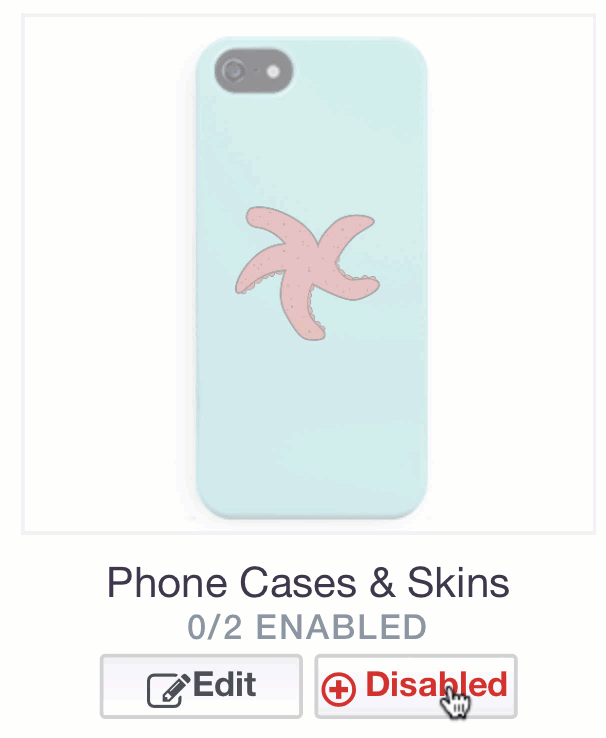 You can also enable/disable specific products in a line.

Scroll to any of the Product categories that have more than one product in the line, like Large Print Clothing.

Click

Edit

and your Editing window will appear.

To the right of the product preview, there is a menu with two options to toggle through: the pencil icon, and the checkmark or cogwheel icon. Click on the checkmark or cogwheel icon.

This will open up your Availability tab. Checkmarking a product will enable it in the product line.

Hit

Apply changes

.