When do I get paid?

How much do I need to make before I get paid?
What are my payment options?

How do I view a record of my sales and payments?

I wish to be paid early

Something doesn't look right

End of Tax Year Information

If you are looking for information on artist margin, how discounts affect sales or base prices, check out our Artist Margin Explained page.
---
We begin our payment cycle on the 15th day of each month at 9am AEST. At this point, we tally up the total for any shipped sales you might have and begin processing these for all artists. This process can take up to 5 business days to complete.
Any sales you have made that have still not shipped by the 15th will roll over to the next month's earnings. If an order is cancelled before it ships, it will not be payable at all.
Remember artists, even if you see your payments are "In Progress" from the 15th, it may take an additional 5 business days for these payments to clear.
If it's after the 21st of the month and you still have not received your funds, feel free to get in touch with our Artist Experience Team and we'll be happy to help!


How much do I need to make before I get paid? 

As of July 2016 there are no longer any payment thresholds for artists on Redbubble. All earning are paid out to all artists each month. 


What are my payment options?

You can elect to be paid via direct deposit into:
1.  A verified PayPal account. PayPal payments can only be made to verified accounts that are able to receive funds. There may be restrictions on some countries receiving funds.
2.  A bank account (depending on your country of residence and selected currency). Bank transfers are only available to Australian, US and UK bank accounts.
Please note:
You are not able to change your chosen currency
, so be sure to select this carefully at sign up.
If you'd like to view or manage your payment method, you can do so on your account details page. For checking up on previous payments, turn instead to your payment history page.
Other things to keep in mind...
Unpaid earnings cannot be transferred into RB store credit, vouchers, or gift certificates.

We are also unable to transfer or add earnings together if you have more than one RB account.


How do I view a record of my sales and payments?
Every time you make a sale, we shoot you a sales notification email. Then, once that order has shipped, you also receive a manufacturing receipt, confirming your payment for the sale.
You can find a complete record of your sales in the sales history, under your Account Details > Artist Tools. This includes the markup earned for a particular sale, and any relevant tax applicable to the sale.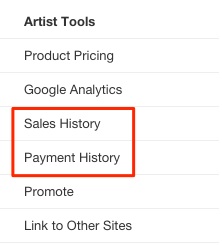 Your payment history provides a complete account of any previous payments made. This information includes the date of payment, the method of payment, and the amount paid.


I wish to be paid early

If you wish to be paid before the 15th, you may request an early payment with the button below. But please note that doing so incurs a $5 USD (or equivalent) manual payment fee and that these requests can take up to 7 business days to process.
It's usually just best to wait for our automatic cycle to send you your funds :)
I understand the conditions and wish to be Paid Early


Something doesn't look right

If you haven't been paid as expected, first things first...
Please double-check that the payment details you have provided are correct.
Payments that were sent to an invalid bank or PayPal account will be returned to us after 30 days, at which point we will be able to re-attempt the payment. This fund transfer is automatic and you do not need to contact us - just make sure your payment information is always kept up to date and we'll take care of the rest.
If you've confirmed your payment information is correct, and you've still not been paid, you can always contact us here or reply to a sales notification email.
For a speedy investigation, please include the following when you submit your help request:
your account username

confirmation that you have received both the sales notification email and the manufacturing receipt email for the sale/s in question
End of Tax Year Information
With members located in different countries with different tax cycles, individuals need to take responsibility for their personal bookkeeping during the year. Every time you sell something you will be notified of the sale and your income via email. These emails contain the information you need to complete your tax return.
Redbubble does not issue a summary of totals earned during the last financial year or send out a summary of artist payments. You will need to keep your own records during the year or be prepared to go back over your bank statements.